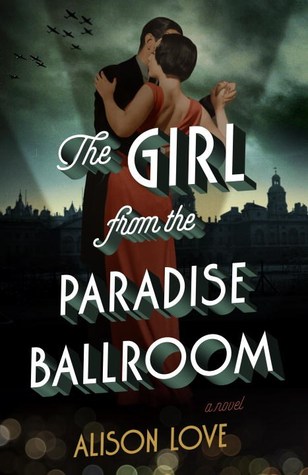 I absolutely loved Alison Love's writing in The Girl From the Paradise Ballroom. Descriptions jump off the page which is exactly what you want from a novel that puts you squarely in the middle of another time and place.
The first meeting between Antonio and Olivia at the Paradise Ballroom is brief, but electric.

Years later, on the dawn of World War II, when struggling Italian singer Antonio meets the wife of his wealthy new patron, he recognizes her instantly: it is Olivia, the captivating dance hostess he once encountered in the seedy Paradise Ballroom. Olivia fears Antonio will betray the secrets of her past, but little by little they are drawn together, outsiders in a glittering world to which they do not belong. At last, with conflict looming across Europe, the attraction between them becomes impossible to resist–but when Italy declares war on England, the impact threatens to separate them forever.
I am a big fan of Karen White's books. I think I've read almost everything she's written and I eagerly jumped into this one which may be my favorite.
If you haven't read any of Karen's books, do so right now.  Flight Patterns is due out in late May so pre-order or add to your Goodreads list.
Georgia Chambers has spent her life sifting through other people's pasts while trying to forget her own. But then her work as an expert of fine china—especially of Limoges—requires her to return to the one place she swore she'd never revisit…

It's been thirteen years since Georgia left her family home on the coast of Florida, and nothing much has changed, except that there are fewer oysters and more tourists. She finds solace seeing her grandfather still toiling away in the apiary where she spent much of her childhood, but encountering her estranged mother and sister leaves her rattled.

Seeing them after all this time makes Georgia realize that something has been missing—and unless she finds a way to heal these rifts, she will forever be living vicariously through other people's remnants. To embrace her own life—mistakes and all—she will have to find the courage to confront the ghosts of her past and the secrets she was forced to keep.
Valley of the Moon is not due out until July so pre-order now. I really liked Melanie Gideon's first novel Wife 22, so I've been very eager to read her latest!
I'm just a few pages in but I am completely hooked by the authors excellent writing.
Lux is a single mom struggling to make her way when she discovers an idyllic community in the Sonoma Valley. It seems like a place from another time—until she realizes it actually is. Lux must keep one foot in her world, raising her son as well as she can with the odds stacked against her, but every day she is more strongly drawn in by the sweet simplicity of life in Greengage, and by the irresistible connection she feels with a man born decades before her.

Soon she finds herself torn between her ties to the modern world—her adored son—and the first place she has ever felt truly at home.