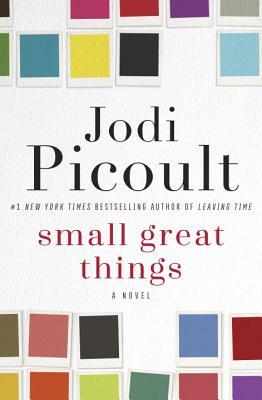 You won't want to miss this incredible new novel from Jodi Picoult. She took on the really sensitive topic of race in Small Great Things.
This is the kind of novel I love to get into, very well researched and lots of detail. The reader has no trouble sympathizing with the main character of Ruth, a black nurse on trial for letting a newborn baby die.
The story flips between Ruth's point of view and that of her lawyer, Kennedy who struggles to leave race out of the trial, and Turk the white skinhead who accuses Ruth of killing his infant son.
"A woman and her husband admitted to a hospital to have a baby requests that their nurse be reassigned – they are white supremacists and don't want Ruth, who is black, to touch their baby. The hospital complies, but the baby later goes into cardiac distress when Ruth is on duty.

She hesitates before rushing in to perform CPR. When her indecision ends in tragedy, Ruth finds herself on trial, represented by a white public defender who warns against bringing race into a courtroom. As the two come to develop a truer understanding of each other's lives, they begin to doubt the beliefs they each hold most dear."
Small Great Things is excellent, I predict a best seller! Due out in October.
I loved The Nanny Diaries so I couldn't wait to get into Emma McLaughlin and Nicole Kraus's new novel called So Close.
Due out very soon, just in time to take with you on vacation! This novel centers around Amanda Luker, a young woman who is running on a string of bad luck. A chance meeting introduces her into the political world where she begins working for idealistic Tom Davis and forges a close friendship with Tom's wife Lindsay.
Complicating Amanda's life is the wealthy and handsome Pax Westerbrook, a playboy with issues of his own. Naturally this is the man who Amanda falls for and though she loves him, can she build a future with him?
A fun, light read!
I absolutely loved The Obituary Writer and cannot wait to read The Book That Matters Most by Ann Hood.
My weekend plans include working on my own novel (I'm halfway through!) and reading this book. Here's what you need to know:
"Ava's twenty-five-year marriage has fallen apart, and her two grown children are pursuing their own lives outside of the country. Ava joins a book group, not only for her love of reading but also out of sheer desperation for companionship. The group's goal throughout the year is for each member to present the book that matters most to them. Ava rediscovers a mysterious book from her childhood—one that helped her through the traumas of the untimely deaths of her sister and mother. Alternating with Ava's story is that of her troubled daughter Maggie, who, living in Paris, descends into a destructive relationship with an older man. Ava's mission to find that book and its enigmatic author takes her on a quest that unravels the secrets of her past and offers her and Maggie the chance to remake their lives."
What are you reading this weekend?